Institut de Neurociències
The Universitat Autònoma de Barcelona is a referent in Europe so much for its teaching quality as for its commitment to innovation in research. The University was founded in 1968 and it has become a model to follow because of its will to contribute to social progress by training the professionals required by the most dynamic economic and social sectors in the country.
The UAB was one of the first universities of the Spanish State in being acknowledged as Campus of International Excellence. This Program promotes alliances of institutions that have a common strategic project aiming to create an academic, scientific, entreprenurial and innovative environment to get a high international visibility. The University proposal is the project "UABCEI: Aposta pel coneixement i la innovació" (UABCIE: Committment to knowledge and innovation). This is an strategic plan that seeks to make a dynamic RDI environment aiming to make the UAB one of the best European Universities.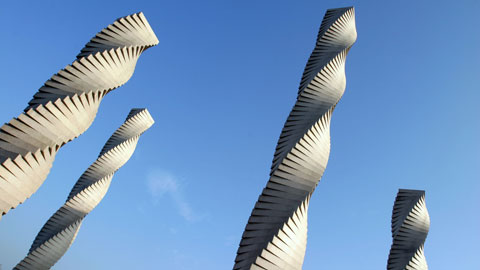 Recent Submissions
(Date of defense:

31-07-2019

)

Les densitats postsinàptiques (DPSs) de les sinapsis en espines dendrítiques expressen més de 2.000 proteïnes, dotant a les neurones de plasticitat sinàptica necessària per a la cognició i el comportament. Algunes de les ...

(Date of defense:

27-02-2020

)

La demència amb cossos de Lewy (DCLw) es caracteritza per la seva heterogeneïtat. En aquesta tesi, el meu objectiu és investigar aquesta heterogeneïtat a través de l'anàlisi dels diferents subtipus clínics basats tant en ...

(Date of defense:

29-11-2019

)

El gen Fas apoptotic inhibitory molecule 1 (FAIM1) fue descubierto en las células B del sistema y está evolutivamente conservado. FAIM1 codifica al menos para cuatro isoformas, de entre ellas FAIM-S y FAIM-L son las más ...

(Date of defense:

04-12-2019

)

Los trastornos de control de impulsos (TCI) son una complicación frecuente del tratamiento de la enfermedad de Parkinson (EP), particularmente del uso de agonistas de dopamina (AD). Los TCI en la EP se han estudiado durante ...

(Date of defense:

13-09-2019

)

Les malalties neurodegeneratives són patologies complexes i progressives que afecten milions de persones a tot el món. Entre d'altres, la malaltia d'Alzheimer (MA), la malaltia de Parkinson (MP) i la demència frontotemporal ...