Departament d'Enginyeria de la Informació i de les Comunicacions
The Universitat Autònoma de Barcelona is a referent in Europe so much for its teaching quality as for its commitment to innovation in research. The University was founded in 1968 and it has become a model to follow because of its will to contribute to social progress by training the professionals required by the most dynamic economic and social sectors in the country.
The UAB was one of the first universities of the Spanish State in being acknowledged as Campus of International Excellence. This Program promotes alliances of institutions that have a common strategic project aiming to create an academic, scientific, entreprenurial and innovative environment to get a high international visibility. The University proposal is the project "UABCEI: Aposta pel coneixement i la innovació" (UABCIE: Committment to knowledge and innovation). This is an strategic plan that seeks to make a dynamic RDI environment aiming to make the UAB one of the best European Universities.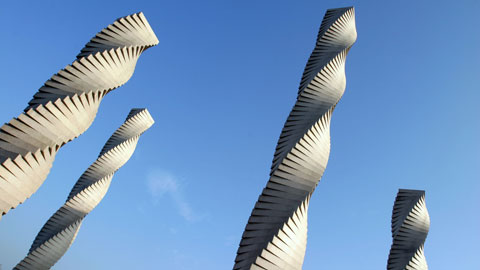 Recent Submissions
(Date of defense:

27-06-2019

)

Los datos hiperespectrales capturados por teledetección cuentan con cientos o miles de componentes espectrales de similares longitudes de onda. Almacenarlos y transmitirlos conlleva una demanda excesiva en ancho de banda ...

(Date of defense:

14-12-2018

)

La codificación de red (NC) ha surgido recientemente como una nueva solución para mejorar el rendimiento de la red en términos de rendimiento y fiabilidad. Sin embargo, la naturaleza multiusuario de NC y su aplicabilidad ...

(Date of defense:

26-10-2018

)

Els codis Z₂s-additius són subgrups de l'anell Zn2s i poden considerar-se com una generalització dels codis lineals sobre Z₂ i Z₄. Es diu codi Hadamard Z₂s - lineal a un codi binari Hadamard que és la imatge, via l'aplicació ...

(Date of defense:

01-10-2018

)

Bitcoin ha donat peu a un dels majors canvis de paradigma de l'últim segle respecte a com entenem i utilitzem els diners. El naixement de les criptomonedes ha obert la porta a un sistema econòmic distribuït on la necessitat ...

(Date of defense:

20-07-2018

)

IASI (Infrared Atmospheric Sounding Interferometer) es un espectrómetro basado en la transformada de Fourier diseñado para medir radiación infrarroja emitida por La Tierra. A partir de estas mediciones se generan datos con ...