Departament de Química
The Universitat Autònoma de Barcelona is a referent in Europe so much for its teaching quality as for its commitment to innovation in research. The University was founded in 1968 and it has become a model to follow because of its will to contribute to social progress by training the professionals required by the most dynamic economic and social sectors in the country.
The UAB was one of the first universities of the Spanish State in being acknowledged as Campus of International Excellence. This Program promotes alliances of institutions that have a common strategic project aiming to create an academic, scientific, entreprenurial and innovative environment to get a high international visibility. The University proposal is the project "UABCEI: Aposta pel coneixement i la innovació" (UABCIE: Committment to knowledge and innovation). This is an strategic plan that seeks to make a dynamic RDI environment aiming to make the UAB one of the best European Universities.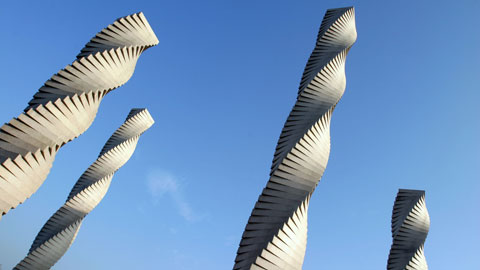 Recent Submissions
(Date of defense:

29-11-2019

)

Los polímeros de coordinación y su diseño racional permiten la formación de materiales nanoestructurados con una amplia variedad de propiedades. Las múltiples combinaciones entre iones metálicos y ligandos orgánicos como ...

(Date of defense:

24-01-2020

)

Avui dia, el subministrament d'energia mundial prové principalment de combustibles basats en carboni, que estan involucrats en problemes mediambientals. Estudis científics sobre la fotosíntesi declaren la capacitat de les ...

(Date of defense:

13-12-2019

)

Durant els darrers 30 anys, Ru, Ir, Pd, Fe o Cu han emergit com a alternatives prometedores en substitució als fàrmacs que contenien platí, que presentaven importants efectes secundaris. Especialment a la darrera dècada, ...

(Date of defense:

16-10-2019

)

L'espectroscòpia de l'infraroig proper (NIR per les seves sigles en anglès) és una tècnica analítica basada en la interacció de la radiació electromagnètica en el rang 780-2500 nm amb la matèria. L'espectre NIR es pot ...

(Date of defense:

19-12-2019

)

Aquesta tesi s'ha basat en la síntesi i el processament del grafè per tal d'obtenir les condicions òptimes per a la seva utilització en aplicacions d'espintrònica. La tesi està emmarcada en dos camps de recerca punters: ...