Departament de Biologia Animal, de Biologia Vegetal i d'Ecologia
The Universitat Autònoma de Barcelona is a referent in Europe so much for its teaching quality as for its commitment to innovation in research. The University was founded in 1968 and it has become a model to follow because of its will to contribute to social progress by training the professionals required by the most dynamic economic and social sectors in the country.
The UAB was one of the first universities of the Spanish State in being acknowledged as Campus of International Excellence. This Program promotes alliances of institutions that have a common strategic project aiming to create an academic, scientific, entreprenurial and innovative environment to get a high international visibility. The University proposal is the project "UABCEI: Aposta pel coneixement i la innovació" (UABCIE: Committment to knowledge and innovation). This is an strategic plan that seeks to make a dynamic RDI environment aiming to make the UAB one of the best European Universities.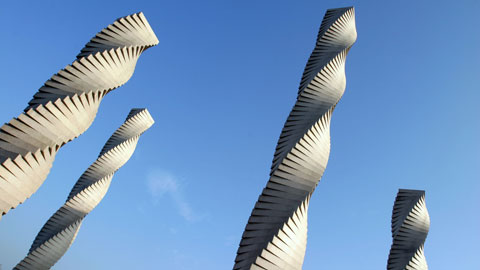 Recent Submissions
(Date of defense:

11-12-2019

)

ls Elements transposables (ETs) són unitats genètiques mòbils aptes a canviar la seva posició en el genoma i difondre autònomament. En els eucariotes, els ETs constitueixen una part considerable del DNA genòmic. Diversos ...

(Date of defense:

12-11-2019

)

INTRODUCCIÓ - Determinar la cronologia d'una fractura òssia segueix sent una de les tasques més difícils en antropologia forense. En la literatura, es poden trobar diferents descripcions i abordatges per diferenciar entre ...

(Date of defense:

10-10-2019

)

La presente tesis doctoral reporta nuevas funciones de los receptores de brassinosteroides (BRs) en el control de respuestas a estrés abiótico en la planta modelo Arabidopsis thaliana. Los BRs son hormonas esteroides ...

(Date of defense:

20-03-2019

)

Aquesta tesi té com a objectiu analitzar el paper de la coberta forestal en la redistribució dels fluxos d'aigua, amb la finalitat de millorar el coneixement sobre el funcionament hidrològic de les conques Mediterrànies ...

(Date of defense:

24-04-2019

)

Una de les principals contribucions com ecòlegs forestals al segle XXI és proporcionar la teoria i aproximacions ecològiques per descriure i predir canvis dels ecosistemes forestals causats pel canvi global. En l'última ...