Departament de Biologia Animal, de Biologia Vegetal i d'Ecologia
The Universitat Autònoma de Barcelona is a referent in Europe so much for its teaching quality as for its commitment to innovation in research. The University was founded in 1968 and it has become a model to follow because of its will to contribute to social progress by training the professionals required by the most dynamic economic and social sectors in the country.
The UAB was one of the first universities of the Spanish State in being acknowledged as Campus of International Excellence. This Program promotes alliances of institutions that have a common strategic project aiming to create an academic, scientific, entreprenurial and innovative environment to get a high international visibility. The University proposal is the project "UABCEI: Aposta pel coneixement i la innovació" (UABCIE: Committment to knowledge and innovation). This is an strategic plan that seeks to make a dynamic RDI environment aiming to make the UAB one of the best European Universities.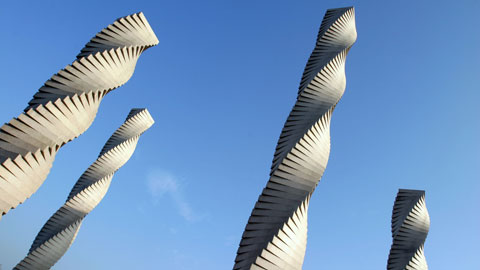 Recent Submissions
(Date of defense:

20-03-2019

)

Aquesta tesi té com a objectiu analitzar el paper de la coberta forestal en la redistribució dels fluxos d'aigua, amb la finalitat de millorar el coneixement sobre el funcionament hidrològic de les conques Mediterrànies ...

(Date of defense:

24-04-2019

)

Una de les principals contribucions com ecòlegs forestals al segle XXI és proporcionar la teoria i aproximacions ecològiques per descriure i predir canvis dels ecosistemes forestals causats pel canvi global. En l'última ...

(Date of defense:

12-04-2019

)

En el últims anys, diversos estudis s'han enfocat cap a l'enteniment del paper dels determinants genètics nuclears i, en menor mesura, mitocondrials, en les malalties cardiovasculars per a prevenir esdeveniments clínics. ...

(Date of defense:

21-02-2019

)

Los isoprenoides forman la familia más amplia de metabolitos naturales y son especialmente diversos en el reino vegetal. Muchos isoprenoides vegetales con funciones esenciales y especializadas derivan del geranilgeranil ...

(Date of defense:

28-11-2018

)

El fruit del préssec deriva de l'ovari madur, que es converteix en drupa. La seva forma pot variar entre rodona i plana, adquirint algunes formes intermèdies com la forma aplanada. En el préssec, el fruit pla (anomenat ...