Departament de Medicina
The Universitat Autònoma de Barcelona is a referent in Europe so much for its teaching quality as for its commitment to innovation in research. The University was founded in 1968 and it has become a model to follow because of its will to contribute to social progress by training the professionals required by the most dynamic economic and social sectors in the country.
The UAB was one of the first universities of the Spanish State in being acknowledged as Campus of International Excellence. This Program promotes alliances of institutions that have a common strategic project aiming to create an academic, scientific, entreprenurial and innovative environment to get a high international visibility. The University proposal is the project "UABCEI: Aposta pel coneixement i la innovació" (UABCIE: Committment to knowledge and innovation). This is an strategic plan that seeks to make a dynamic RDI environment aiming to make the UAB one of the best European Universities.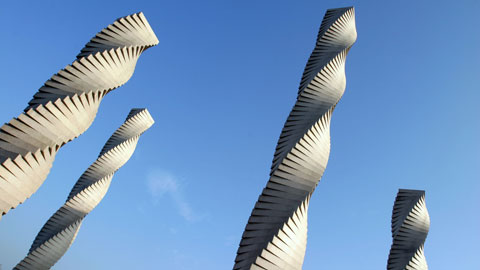 Recent Submissions
(Date of defense:

26-02-2020

)

Fins ara, les aproximacions meta-òmiques utilitzen tecnologies de seqüenciació d'alt rendiment, que produeixen una quantitat enorme de dades, desafiant així els ordinadors moderns actuals. Hem desenvolupat una nova pipeline ...

(Date of defense:

18-02-2020

)

Un problema important en el maneig de l'Estat Epiléptico (EE) és el diagnòstic precoç d'aquest. Se sap que l'activitat epilèptica causa un augment de la demanda metabòlica a nivell cerebral, que s'acompanya d'un augment ...

(Date of defense:

06-03-2020

)

La Diabetis Gestacional (DG) afecta un 8,8% dels embarassos en Espanya segons els criteris diagnòstics de la National Diabetes Data Group (NDDG). En canvi, la prevalença podria augmentar si s'aplicaren els criteris de la ...

(Date of defense:

28-02-2020

)

El transplantament renal ha permès millorar la supervivència i la qualitat de vida dels pacients amb malaltia renal crònica ja que disminueix la mortalitat respecte als pacients en diàlisis. Malgrat això, la malaltia ...

(Date of defense:

10-01-2020

)

La urticària crònica (UC) és una malaltia dermatològica freqüent que es caracteritza per l'aparició recurrent de faves i/o angioedema durant un període de més de 6 setmanes. La UC es classifica en: i) Urticària crònica ...