Departament de Farmacologia, de Terapèutica i de Toxicologia
The Universitat Autònoma de Barcelona is a referent in Europe so much for its teaching quality as for its commitment to innovation in research. The University was founded in 1968 and it has become a model to follow because of its will to contribute to social progress by training the professionals required by the most dynamic economic and social sectors in the country.
The UAB was one of the first universities of the Spanish State in being acknowledged as Campus of International Excellence. This Program promotes alliances of institutions that have a common strategic project aiming to create an academic, scientific, entreprenurial and innovative environment to get a high international visibility. The University proposal is the project "UABCEI: Aposta pel coneixement i la innovació" (UABCIE: Committment to knowledge and innovation). This is an strategic plan that seeks to make a dynamic RDI environment aiming to make the UAB one of the best European Universities.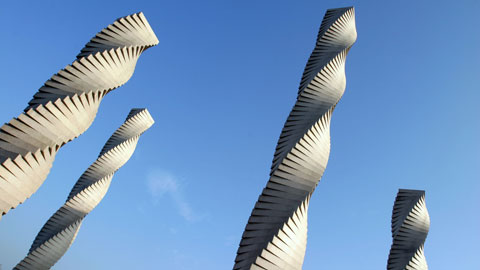 Recent Submissions
(Date of defense:

15-11-2018

)

Los datos disponibles en la actualidad indican que los efectos psicoactivos de la salvinorina A, el principio activo de la planta Salvia divinorum, se deberían al efecto agonista ejercido por este compuesto sobre el ...

(Date of defense:

23-11-2018

)

Las incertidumbres reguladoras asociadas a las autorizaciones de comercialización de medicamentos huérfanos con frecuencia se relacionan con la realización de desarrollos clínicos poco convencionales, obstaculizados por ...

(Date of defense:

30-11-2018

)

El aumento de las resistencias a los antimicrobianos actualmente disponibles unido a la falta de comercialización de nuevos fármacos supone que las instituciones sanitarias recurran a desarrollar programas para hacer frente ...

(Date of defense:

25-10-2018

)

INTRODUCCIÓ: La presència de sagnat copiós en el camp quirúrgic és un factor crític en el potencial èxit o fracàs en cirurgia endoscòpica nasosinusal (CENS). L'anestèsia que inclou α₂ agonistes intravenosos com adjuvants ...

(Date of defense:

11-10-2018

)

Personalitat: Estudi del continuum entre salut i esquizofrènia. La recerca del Trastorn Esquizotípic de la Personalitat (TEP) proveeix dades per a una millor comprensió de l'esquizofrènia, ja que permet estudiar les bases ...