Departament de Ciència Animal i dels Aliments
The Universitat Autònoma de Barcelona is a referent in Europe so much for its teaching quality as for its commitment to innovation in research. The University was founded in 1968 and it has become a model to follow because of its will to contribute to social progress by training the professionals required by the most dynamic economic and social sectors in the country.
The UAB was one of the first universities of the Spanish State in being acknowledged as Campus of International Excellence. This Program promotes alliances of institutions that have a common strategic project aiming to create an academic, scientific, entreprenurial and innovative environment to get a high international visibility. The University proposal is the project "UABCEI: Aposta pel coneixement i la innovació" (UABCIE: Committment to knowledge and innovation). This is an strategic plan that seeks to make a dynamic RDI environment aiming to make the UAB one of the best European Universities.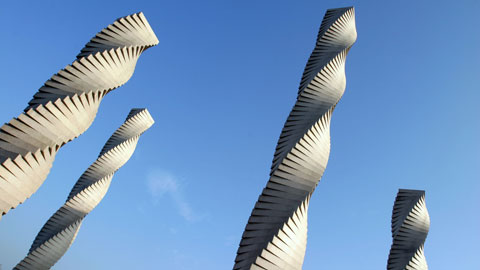 Recent Submissions
(Date of defense:

18-01-2019

)

Los perros en colectivos (refugios, perreras, criaderos, instalaciones de investigación) se enfrentan a una serie de condiciones subóptimas que comprometen su bienestar. En esta tesis se analizó el efecto de dos productos ...

(Date of defense:

21-05-2019

)

La obesidad y las enfermedades crónicas relacionadas con la dieta forman parte de los grandes problemas de salud pública a combatir a nivel mundial. Es posible que, mediante la nutrición, utilizando alimentos que permitan ...

(Date of defense:

21-05-2019

)

La inocuidad alimentaria es un tema amplio y relevante que impacta directamente en todos los segmentos de la sociedad, involucra productores, desarrolladores, innovadores, consumidores y gobierno, además de diversos sectores ...

(Date of defense:

07-06-2019

)

Actualment s'observa un increment en la utilització de tècniques de cocció a temperatures moderades com la cuina al buit. Donada la possibilitat d'utilitzar aquestes tècniques per a preparar menjars amb antelació i considerant ...

(Date of defense:

07-03-2019

)

La producción in vitro de embriones (PIVE) tiene su mayor limitación en la eficacia de la maduración in vitro (MIV) de los oocitos. La MIV altera la competencia de los oocitos debido al efecto perjudicial de los radicales ...