Departament de Medicina i Cirurgia Animals
The Universitat Autònoma de Barcelona is a referent in Europe so much for its teaching quality as for its commitment to innovation in research. The University was founded in 1968 and it has become a model to follow because of its will to contribute to social progress by training the professionals required by the most dynamic economic and social sectors in the country.
The UAB was one of the first universities of the Spanish State in being acknowledged as Campus of International Excellence. This Program promotes alliances of institutions that have a common strategic project aiming to create an academic, scientific, entreprenurial and innovative environment to get a high international visibility. The University proposal is the project "UABCEI: Aposta pel coneixement i la innovació" (UABCIE: Committment to knowledge and innovation). This is an strategic plan that seeks to make a dynamic RDI environment aiming to make the UAB one of the best European Universities.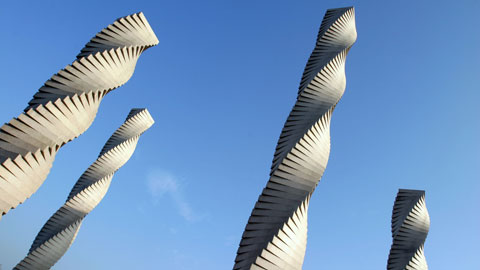 Recent Submissions
(Date of defense:

05-04-2019

)

Els herbívors tenen un paper fonamental en el manteniment de la salut i l'estructura dels ecosistemes a nivell mundial. No obstant, evidències recents indiquen que el canvi climàtic i el canvi en l'ús del sòl afecten els ...

(Date of defense:

13-05-2019

)

El plasma dessecat per atomització (SDP) és una font de proteïnes funcionals obtinguda a partir de sang d'animals sans, aprovats per les autoritats veterinàries per al consum humà. La sang es recull a l'escorxador, es ...

(Date of defense:

24-05-2019

)

El virus de la peste porcina africana (VPPA) representa, hoy en día, una gran amenaza para la industria porcina. La presencia descontrolada de la PPA en África ha favorecido su exportación a otros países, tal y como demuestra ...

(Date of defense:

22-03-2019

)

Esta Tesis Doctoral está constituida por tres estudios. El primer estudio consistió en identificar las estrategias actuales de adaptación de la reposición frente M. hyopneumoniae utilizadas en las granjas porcinas de Europa. ...

(Date of defense:

26-11-2018

)

Veneçuela és una àrea endèmica de leishmaniosi en humans, així com també en gossos i gats, el que constitueix un problema de salut pública. La informació científica en aquesta regió sobre la clínica i epidemiologia de la ...