Departament de Ciència i Tecnologia Ambientals
The Universitat Autònoma de Barcelona is a referent in Europe so much for its teaching quality as for its commitment to innovation in research. The University was founded in 1968 and it has become a model to follow because of its will to contribute to social progress by training the professionals required by the most dynamic economic and social sectors in the country.
The UAB was one of the first universities of the Spanish State in being acknowledged as Campus of International Excellence. This Program promotes alliances of institutions that have a common strategic project aiming to create an academic, scientific, entreprenurial and innovative environment to get a high international visibility. The University proposal is the project "UABCEI: Aposta pel coneixement i la innovació" (UABCIE: Committment to knowledge and innovation). This is an strategic plan that seeks to make a dynamic RDI environment aiming to make the UAB one of the best European Universities.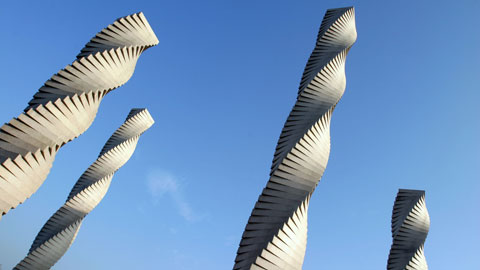 Recent Submissions
(Date of defense:

08-07-2016

)

Durant l'última dècada, el sector agrícola ha passat de les pràctiques tradicionals a mètodes més intensius per tal d'augmentar la seva productivitat, com a resposta a la creixent demanda d'una població creixent. En ...

(Date of defense:

05-12-2014

)

Esta tesis tiene como objetivo contribuir al debate, en el mundo académico y más allá, sobre los argumentos de ciertas alternativas a los sistemas monetarios de las economías capitalistas existentes. Son investigadas dos ...

(Date of defense:

14-09-2012

)

En esta dissertación se desarrolló un modelo para evaluar técnica, económica y ambientalmente sistemas de recogida de agua de lluvia para aprovechamiento doméstico urbano. Se analizaron diferentes tipologías de vivienda ...

(Date of defense:

05-07-2012

)

La energía es un elemento fundamental para muchos aspectos del desarrollo socioeconómico. Los servicios que la mayoría de las personas en los países industrializados dan garantizados - iluminación adecuada, energía limpia ...

(Date of defense:

02-03-2012

)

Los costes ambientales de la movilidad y su relación con los usos del suelo han sido foco de atención del debate científico en las últimas décadas. Las implicaciones ambientales de la movilidad basada principalmente en el ...