Institut Català de Nanociència i Nanotecnologia
The Universitat Autònoma de Barcelona is a referent in Europe so much for its teaching quality as for its commitment to innovation in research. The University was founded in 1968 and it has become a model to follow because of its will to contribute to social progress by training the professionals required by the most dynamic economic and social sectors in the country.
The UAB was one of the first universities of the Spanish State in being acknowledged as Campus of International Excellence. This Program promotes alliances of institutions that have a common strategic project aiming to create an academic, scientific, entreprenurial and innovative environment to get a high international visibility. The University proposal is the project "UABCEI: Aposta pel coneixement i la innovació" (UABCIE: Committment to knowledge and innovation). This is an strategic plan that seeks to make a dynamic RDI environment aiming to make the UAB one of the best European Universities.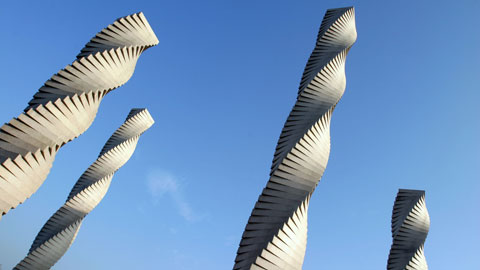 Recent Submissions
(Date of defense:

19-07-2019

)

Aquesta tesi te com a objecte l'estudi de l'estructura electrònica de metalls de baixa dimensionalitat tant en la forma de monocapes com en el bulk. Aquest tipus de metalls sovint presenten inestabilitats electròniques del ...

(Date of defense:

12-04-2019

)

Topological Insulators (TIs) have become one of the wonder materials of condensed matter physics over the last decade due to their novel properties, possessing an insulating bulk in coexistence with metallic boundaries. ...

(Date of defense:

07-05-2019

)

El objetivo de esta tesis ha sido el diseño y la preparación de electrodos flexibles basados en grafeno utilizando diferentes técnicas de impresión para aplicaciones de almacenamiento de energía, específicamente ...

(Date of defense:

16-11-2018

)

Los nanomateriales han sido un área intrigante de investigación científica en las últimas décadas, dada sus particulares propiedades físico-químicas que los hacen adecuados para aplicaciones en campos como fotonica, ...

(Date of defense:

12-07-2018

)

L'energia que s'origina de combustibles fòssils ha permés avenços molt remarcables a la nostra civilització durant el segle passat. No obstant, els combustibles fòssils no son il·limitats i suposen una font d'increment del ...