Departament de Física
The Universitat Autònoma de Barcelona is a referent in Europe so much for its teaching quality as for its commitment to innovation in research. The University was founded in 1968 and it has become a model to follow because of its will to contribute to social progress by training the professionals required by the most dynamic economic and social sectors in the country.
The UAB was one of the first universities of the Spanish State in being acknowledged as Campus of International Excellence. This Program promotes alliances of institutions that have a common strategic project aiming to create an academic, scientific, entreprenurial and innovative environment to get a high international visibility. The University proposal is the project "UABCEI: Aposta pel coneixement i la innovació" (UABCIE: Committment to knowledge and innovation). This is an strategic plan that seeks to make a dynamic RDI environment aiming to make the UAB one of the best European Universities.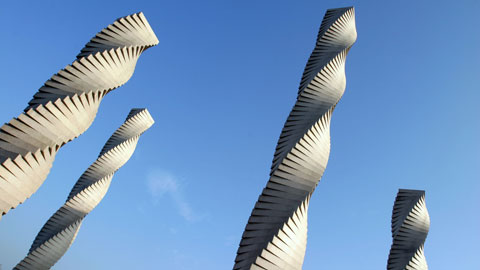 Recent Submissions
(Date of defense:

08-11-2019

)

Este proyecto de doctorado se centra en la evaluación de calidad de una unidad de rayos X para aplicaciones dosimétricas. Esta tesis describe todo el proyecto en tres secciones diferentes. La primera parte puede considerarse ...

(Date of defense:

24-10-2019

)

El tema principal d'aquesta tesi és el problema gravitacional de dos cossos en el règim de raons de masses extremes - és a dir, on una massa és significativament més petita que l'altra - en el context complet de la nostra ...

(Date of defense:

29-10-2019

)

Vegeu resum frg1de2.pdf i resum frg2de2.pdf i

(Date of defense:

31-10-2019

)

Les actuals i futures cartografies de galàxies cobriran un major volum i recolliran imatges de millor qualitat que les obtingudes fins ara, permetent mesures precises de la última etapa de l'Univers i proves potents de ...

(Date of defense:

11-10-2019

)

Esta tesis aborda la síntesis, caracterización y funcionalización de nanoestructuras magnéticas biocompatibles y anisótropas de óxido de hierro (Fe3O4) para su aplicación en diagnóstico biomédico mediante imagen de resonancia ...