Departament de Física
The Universitat Autònoma de Barcelona is a referent in Europe so much for its teaching quality as for its commitment to innovation in research. The University was founded in 1968 and it has become a model to follow because of its will to contribute to social progress by training the professionals required by the most dynamic economic and social sectors in the country.
The UAB was one of the first universities of the Spanish State in being acknowledged as Campus of International Excellence. This Program promotes alliances of institutions that have a common strategic project aiming to create an academic, scientific, entreprenurial and innovative environment to get a high international visibility. The University proposal is the project "UABCEI: Aposta pel coneixement i la innovació" (UABCIE: Committment to knowledge and innovation). This is an strategic plan that seeks to make a dynamic RDI environment aiming to make the UAB one of the best European Universities.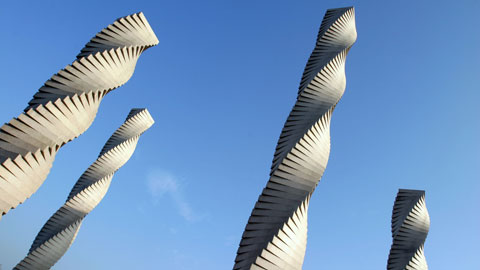 Recent Submissions
(Date of defense:

07-05-2019

)

La fabricació de capes superconductores nanocomposite d'YBa2Cu3O7-x (YBCO) mitjançant la incorporació de nanopartícules a la matriu ha demostrat haver realçat el rendiment d'ancoratge de vòrtexs sota camps magnètics aplicats ...

(Date of defense:

20-03-2019

)

Els superconductors d'alta temperatura, especialment els cuprats en forma de cintes superconductores, tenen el potencial de formar part de la propera revolució tecnològica gràcies a les seves propietats superconductores ...

(Date of defense:

28-02-2019

)

This thesis is devoted to the theoretical and computational study at atomistic and molecular scales of the properties of novel organic nanoparticles called "Quatsomes" (vesicles made by mixing CTAB cationic surfactant and ...

(Date of defense:

20-02-2019

)

Fa més d'un segle els físics de tot el món desenvolupaven una teoria per descriure comportaments estranys recentment descobertes d'alguns sistemes físics, això marca el naixement de la Teoria Quàntica. Algunes dècades més ...

(Date of defense:

25-01-2019

)

Aquesta Tesi descriu la recerca enfocada a l'estudi de la modulació de les propietats òptiques de cristalls fotònics on tenen lloc excitacions plasmòniques. Aquestes propietats es poden modular o, fins i tot, llur magnitud ...