Departament de Física
The Universitat Autònoma de Barcelona is a referent in Europe so much for its teaching quality as for its commitment to innovation in research. The University was founded in 1968 and it has become a model to follow because of its will to contribute to social progress by training the professionals required by the most dynamic economic and social sectors in the country.
The UAB was one of the first universities of the Spanish State in being acknowledged as Campus of International Excellence. This Program promotes alliances of institutions that have a common strategic project aiming to create an academic, scientific, entreprenurial and innovative environment to get a high international visibility. The University proposal is the project "UABCEI: Aposta pel coneixement i la innovació" (UABCIE: Committment to knowledge and innovation). This is an strategic plan that seeks to make a dynamic RDI environment aiming to make the UAB one of the best European Universities.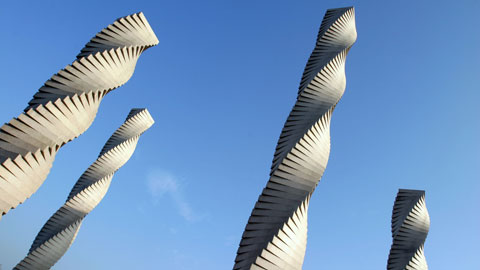 Recent Submissions
(Date of defense:

12-09-2019

)

Vegeu resumjily1de1.pdf

(Date of defense:

19-07-2019

)

En les teories quàntiques de camps, les prediccions numèriques d'observables físics només es poden calcular amb expansions pertorbatives en potències de les constants d'acoblament, els paràmetres que determinen la força ...

(Date of defense:

17-07-2019

)

En este trabajo realizamos un análisis de la cromodinámica cuántica (QCD) en desintegraciones del tau en hadrones. QCD describe la fuerza fuerte, que dicta las interacciones entre quarks. Los quarks son partículas elementales. ...

(Date of defense:

19-07-2019

)

Vegeu resums ggdp1de1.pdf

(Date of defense:

04-09-2019

)

Con el objetivo de mejorar la concentración de los agentes terapéuticos dentro de tumores y maximizar sus efectos terapéuticos, esta Tesis se centró en el desarrollo de nuevos y versátiles nanocúpulas magneto-plasmónicas ...