Departament de Bioquímica i Biologia Molecular
The Universitat Autònoma de Barcelona is a referent in Europe so much for its teaching quality as for its commitment to innovation in research. The University was founded in 1968 and it has become a model to follow because of its will to contribute to social progress by training the professionals required by the most dynamic economic and social sectors in the country.
The UAB was one of the first universities of the Spanish State in being acknowledged as Campus of International Excellence. This Program promotes alliances of institutions that have a common strategic project aiming to create an academic, scientific, entreprenurial and innovative environment to get a high international visibility. The University proposal is the project "UABCEI: Aposta pel coneixement i la innovació" (UABCIE: Committment to knowledge and innovation). This is an strategic plan that seeks to make a dynamic RDI environment aiming to make the UAB one of the best European Universities.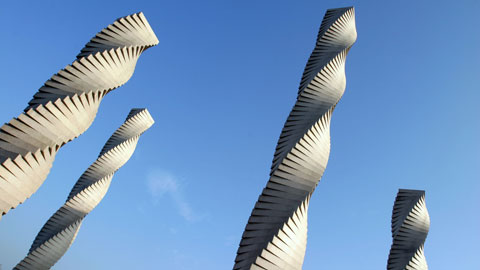 Recent Submissions
(Date of defense:

20-12-2019

)

STAT3 (signal transducer and activator of transcription 3) és un factor de transcripció latent que regula la transcripció de gens relacionats amb processos biològics essencials tals com: la diferenciació cel·lular, la ...

(Date of defense:

25-03-2020

)

La tesi es va centrar en l'anàlisi de la funció biològica de les RNases humanes, destacant l'acció de regulació immunològica en macròfags per combatre la infecció per patògens i els possibles mecanismes moleculars involucrats. ...

(Date of defense:

15-10-2019

)

Com el múscul esquelètic és el compartiment que es desenvolupa més ràpidament abans del deslletament, requereix que la síntesi de proteïnes funcioni de manera activa. Els aminoàcids, en ser la unitat bàsica de les proteïnes, ...

(Date of defense:

22-01-2020

)

Les cèl·lules dendrítiques (DCs) són clau en la inducció de respostes immunitàries adaptatives gràcies a la seva capacitat de capturar, processar i presentar antígens derivats de patògens als limfòcits T. Tanmateix, aquestes ...

(Date of defense:

15-10-2019

)

El càncer d'ovari és la neoplàsia maligna ginecològica més letal, freqüentment diagnosticada en estadis avançats quan la malaltia es troba disseminada. L'heterogeneïtat genòmica i genètica descrita en càncer d'ovari ...