Departament de Biologia Cel·lular, de Fisiologia i d'Immunologia
The Universitat Autònoma de Barcelona is a referent in Europe so much for its teaching quality as for its commitment to innovation in research. The University was founded in 1968 and it has become a model to follow because of its will to contribute to social progress by training the professionals required by the most dynamic economic and social sectors in the country.
The UAB was one of the first universities of the Spanish State in being acknowledged as Campus of International Excellence. This Program promotes alliances of institutions that have a common strategic project aiming to create an academic, scientific, entreprenurial and innovative environment to get a high international visibility. The University proposal is the project "UABCEI: Aposta pel coneixement i la innovació" (UABCIE: Committment to knowledge and innovation). This is an strategic plan that seeks to make a dynamic RDI environment aiming to make the UAB one of the best European Universities.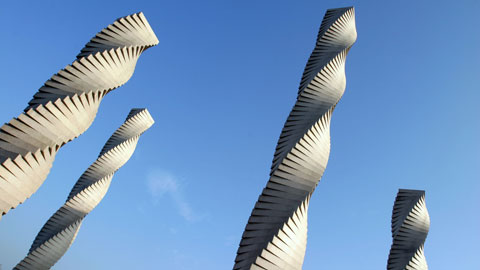 Recent Submissions
(Date of defense:

09-11-2018

)

Lesiones en el nervio periférico causan una disrupción axonal que puede producir una neurodegeneración retrograda. Las neuronas axotomizadas sufren una serie de cambios fenotípicos a nivel molecular y celular, algunos de ...

(Date of defense:

12-04-2019

)

Des del desenvolupament de la seqüenciació de Sanger l'any 1977, els avenços tecnològics han revolucionat el camp dels òmiques. Els projectes de seqüenciació a gran escala han generat una enorme quantitat de dades que han ...

(Date of defense:

25-01-2019

)

Els cromosomes ocupen regions específiques del nucli anomenades territoris cromosòmics. En cèl·lules somàtiques, el posicionament dels cromosomes està condicionat per la densitat gènica, l'activitat transcripcional i el ...

(Date of defense:

04-02-2019

)

Els telòmers són estructures nucleoprotèiques que segellen l'extrem cromosòmic i el protegeixen de la reparació il·legítima mitjançant la formació d'un llaç telomèric anomenat t-loop que està modulat per la proteïna TRF2. ...

(Date of defense:

20-12-2018

)

Els organismes han desenvolupat mecanismes eficients per reparar les lesions que es generen constantment al DNA. No obstant això, la freqüència d'anomalies potencialment oncogèniques, com ara els trencaments de doble cadena ...