Institut de Ciència i Tecnologia Ambientals
The Universitat Autònoma de Barcelona is a referent in Europe so much for its teaching quality as for its commitment to innovation in research. The University was founded in 1968 and it has become a model to follow because of its will to contribute to social progress by training the professionals required by the most dynamic economic and social sectors in the country.
The UAB was one of the first universities of the Spanish State in being acknowledged as Campus of International Excellence. This Program promotes alliances of institutions that have a common strategic project aiming to create an academic, scientific, entreprenurial and innovative environment to get a high international visibility. The University proposal is the project "UABCEI: Aposta pel coneixement i la innovació" (UABCIE: Committment to knowledge and innovation). This is an strategic plan that seeks to make a dynamic RDI environment aiming to make the UAB one of the best European Universities.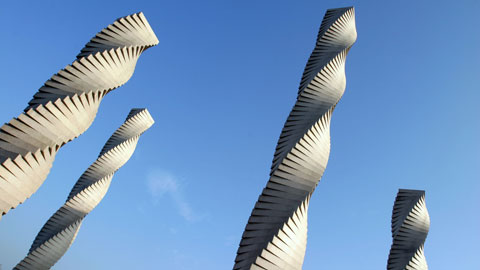 Recent Submissions
(Date of defense:

02-04-2019

)

L'agricultura urbana (AU), especialment en les cobertes (AR), és una pràctica cada vegada més implementada per a complementar la creixent demanda de producció local d'aliments a les ciutats. Diversos treballs de recerca ...

(Date of defense:

29-03-2019

)

Recentment s'ha descobert que els ecosistemes costaners, també coneguts com a embornals de carboni blau (praderies de fanerògames marines, manglars i marjals) igualen o fins i tot superen la capacitat dels ecosistemes ...

(Date of defense:

13-02-2019

)

Los alérgenos aerovagantes están entre las partículas atmosféricas con mayor influencia en la salud respiratoria humana. La alergia al polen de Poaceae y al polen de Betula se encuentran entre las alergias respiratorias ...

(Date of defense:

16-01-2019

)

Al llarg dels últims anys la presència de productes farmacèutics al medi ambient ha captat l'atenció de la comunitat científica, així com la preocupació pública, ja que aquests podrien suposar un risc per al medi ambient. ...

(Date of defense:

30-11-2018

)

En los últimos años, investigadores de ciencias sociales han estudiado un abanico de las llamadas alternativas económicas y políticas. Tales alternativas son entendidas como espacios, iniciativas u organizaciones a las ...